c'est pendant les jour heureux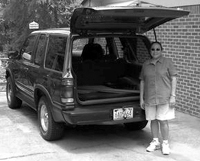 . ma mère m'a venu pendant de plusieur jours après j'ai cassé l'epaule. bien que il m'a pris trois fois de obtenir le license, it was all worth the effort. malheureusement, j'ai arreté utiliser le bicycette et me fait grandir gros.
j'ai voulu toujours acheter un volkswagen beetle. quel nostalgic. clearly different and non conformist. le dessin coming from a not so distant past. it speaks to you about the idolized spirit of its time. individuality and the importance selfless contribution to society, liberal social views and revolutions et patati et patata .. i could see myself driving cross-country, up and down the coastlines, aboard a barge, in a ragtop model. never mind the fact that I don't have a driver license from my home country. in my fantasy, petty things like that don't matter.
there goes your short term plans for the next five years. get a driver license. and get a volksvagen. comment on commence l'acheter dans mon pays?