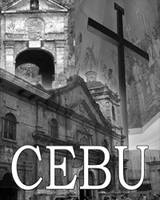 its hard to make a mistake, taking pictures of these very old places in the island. that even from an amateur like me who isnt really trying, they came out gorgeous. from the left is the fort - san pedro. the cross of magellan. and at the bottom is the church of sto nino. ominous icons of how the nation was taken over by spain several centuries ago. religion played a big role in the invasion with the natives ultimately loosing the battle. doesnt it remind you of the old world (europe)? i think if there were changelings left theyd be here, somewhere .. im sure of it.
in the simplify your life book, it was repeatedly suggested to save money and to get out of debt. its funny how simple it is. i have been leaving beyond my means for the past ten years, which brings me to where i am right now. c'est presque octobre. it will all be over soon. i think ive done my share of giving back to the family, its time for me to start thinking about MY future. i can only imagine if i got this book earlier (like a decade earlier), i would have done things differently.
im posting my
genealogie project
online. some pictures and more importantly, compilation of short biographies and anectodes .. please please please take this seriously because as you can see, tita ines is dead. its not so much about her being gone that bothers me but everything she had known of the war and her life during the american period is now lost .. gone forever ... sayang .. if you guys can help consolidate short anecdotes of our ancestors ..