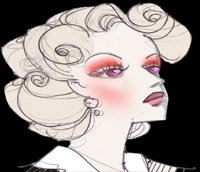 i got a call from bigfoot this afternoon and they were offering me a management position. bigfoot is a software company in cebu which is infamous for having large turnovers because of the incessant public humiliation, the people working there are subjected to. from what i heard. i had to decline her offer due to the following reasons: (1) i still have a years worth contract with lexmark and (2) moving to another company wouldnt solve any of my major problems. namely, i cant seem to find my real niche. on the otherhand, i confirmed earlier rumors of bigfoot having great projects. so if there is going to be any changes, i hope to make them for the right reasons. the way things at work is going. it is bound to happen sometime. not soon. but sometime. i remember the exact moment that triggered my thinking about moving out. (yahoo msgr). small thing. HUGE mistake.
when the designated alpha male begins to show panic, it rolls over to the rest of the pack. neither is it helpful if there's been a bypass (esp when its deliberate) of that leadership. undermining each others capabilities (or worse, each others potential) is another obstacle. even if it was meant for a joke. its a bad joke.then there is the match making. it is not as fun 10 years after. arent we too old for that? then there is definitely the language problem. and lastly, i cant stand the sexism. i am resigned to the "culture" apparent. making it distinct because i have a high regard of what culture is and isnt. its out of my hands. i have to remind myself yet again .. that i am not in oz anymore. (sigh)
read a friends blog. it had an intersting case on falling prey to liking a language or coding style too much. when programmers obsess for a number of reasons. like how church goers could be with religion. one of them is more than just the language in itself or the coding style that came with it. we cant say c++ wasnt a big improvement on c because it was/is. or comparing vb.net to old vb. there is good reason for a programmer to become obsessed like a musician to an instrument. or a linguist to a favorite language. when something "better" comes along, it wouldnt hurt to take a look.