met some of j's friends. revisiting the sites of pasay road, greenbelt, and glorietta. nothing has changed, except for a few more or less establishments over the years. powerbooks and racks has stopped doing business. this was the first trip we have done together. i loved the books for less shop in front of pancake house. i saw some of the best collection of books in a shop in years. there were computer books too.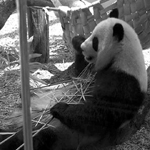 i love pandas. this panda bear, the main attraction to the city zoo (ATL), came all the way from mainland china along with a few others. sometimes i envy these creatures who seem to not worry about anything.
j'ai visité ma soeur ce week-end. c'etait son anniversaire. i was happy to see everyone. including tristan, my newest nephew. his face has cleared up from the last time i saw him (son baptême). tristans face is so round it looks like a very large siopao. il est trois moins. he is showing recognition to faces and movement.
reformat the machine. i lost all my files (friends,sitc,porn,projects). because papa wouldnt use precaution in using his diskettes. most of those files were three years old. i was able to save but one. the data file for my genealogie project. this wouldnt have happened if i brought it with me to cebu. i also know, i wouldnt be doing my brother a favor, if i did that.